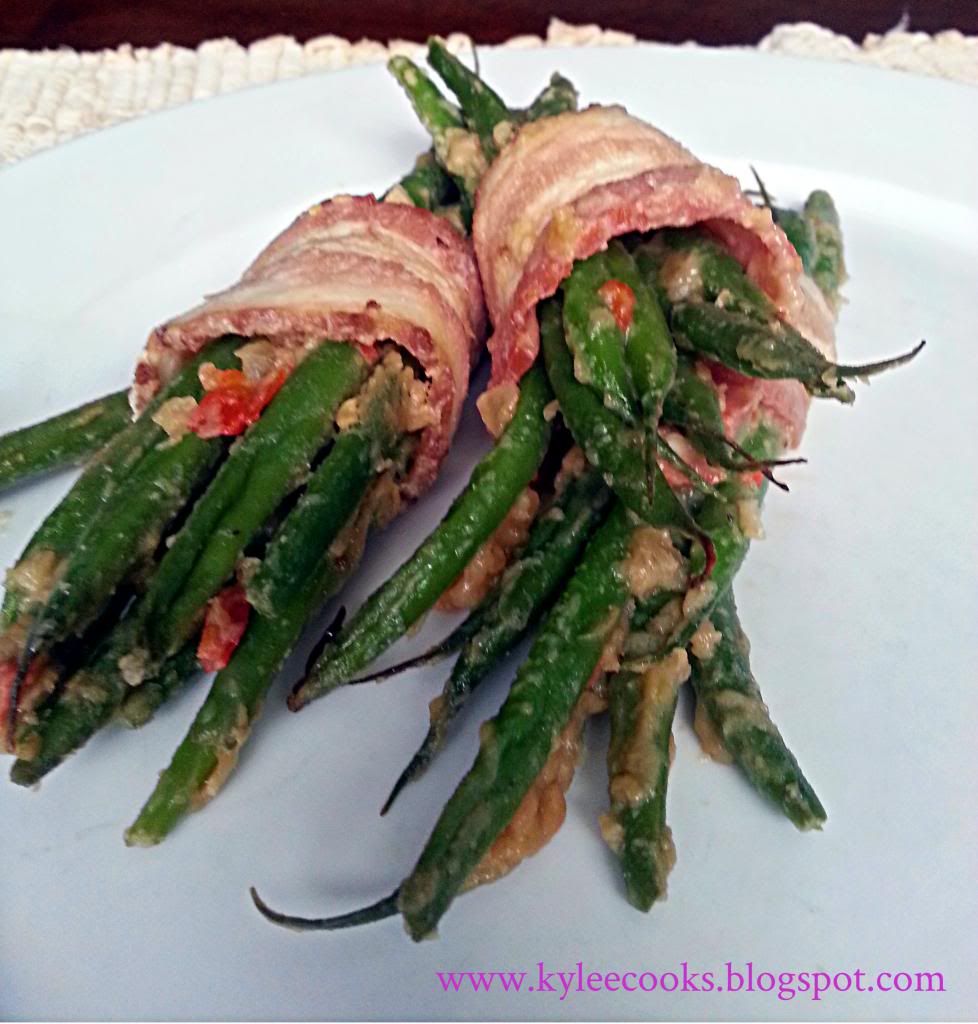 Perfect for a holiday dinner (we do these at either Christmas or Thanksgiving – sometimes both!), and in handy pre-portioned bundles, these take a bit of work, but are super-duper worth it.  Let's be real – pretty much anything can be improved by the addition of bacon.
Both beans and gravy can be made ahead of time, and on serving day – you just dip, wrap and bake… and sit back and watch the fights over the last one….
This recipe comes from Kayotic Kitchen, and I wouldn't change a single thing. So, I left the recipe "as is" (rare for me!)
Country-Style Green Beans
COUNTRY-STYLE GREEN BEANS
Ingredients
1

lb

french green beans

1/3

red bell pepper

1

clove

garlic

1

small onion

7

oz

bacon

2

Tbs

flour

1

tsp

mustard powder

1/2

tsp

onion powder

1 1/2

cup

beef broth

pepper

salt
Directions
Finely mince the onion. Peel the bell pepper with a vegetable peeler and mince it and mince or grate the garlic. Combine the flour with the mustard and onion powder.

Wash the green beans, remove the stem end of the beans but don't trim the other side. Boil them in lightly salted water for 10 minutes and then rinse them with cold water to stop the cooking process.

Heat butter and cook the onions over low heat for about 5 minutes while stirring occasionally. Add the bell pepper, garlic and cook for another 5 minutes. Add the flour and cook for 2 minutes over low heat.

Bit by bit, pour in beef broth until you end up with a smooth not too thin sauce. Season with salt and pepper to taste. Use roughly 5 green beans at a time and drag them through the sauce before wrapping the bacon around the beans.

Preheat your oven to 400F (200C). Put the bacon and bean bundles on a rack, place a baking tray filled with water underneath to catch the drippings and give them 12 to 15 minutes. Until the bacon is crispy. Flip them over and grill them until the bacon on that side is golden brown as well.

Garnish with finely minced bell pepper for a bit of crunch and some parsley for a bit of colour.